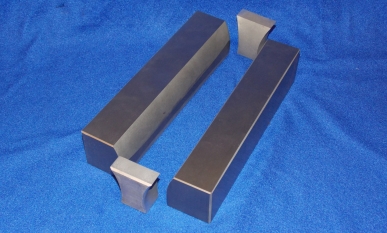 Carbide Side & End Blocks
Finished carbide side and end blocks allow for an adjustable sectional draw die when drawing square or rectangle cold drawn bar shapes with sharp corners. The end blocks are positioned between the side blocks at a distance equal to the width dimension of the bar to be cold drawn. The end block dimension equals the thickness of the shape being cold drawn. The side and end blocks are placed in a special holder which is mounted into the draw bench.
Side and end blocks are precision ground with either an "off center" or "on center" radius. The convex radius is the drawing surface for all of the blocks. The concave radius must precisely match the side block for proper fit. Side and end blocks are provided as finish ground or with titanium nitride/titanium carbide coating.