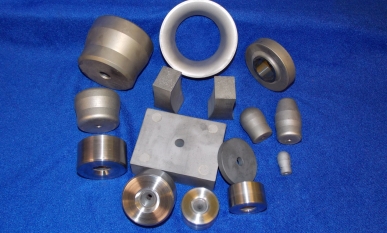 Carbide - Rough Cored
Glen Carbide can supply all of your rough cored carbide needs. We can also rough or finish grind any surface to your specifications. See the Grinding Services page for our capabilities.
Send us your drawings. We can open AutoCad or SolidWorks files and will be pleased to quote your requirements.
Carbide Rough Cored Wire Dies
We can also supply all of your rough cored die needs. A list of our stock sizes are below. Other sizes, angles, and cases can be made upon request.
"R"
Series

Standard
Case

Approach
Angle

Rough Cored Hole Sizes

R5

1-1/2 x 7/8

12°, 16°

.025 .040 .055 .085 .100 .120 .180 .200

R6

2 x 1-1/8

12°, 16°

.055 .085 .100 .120 .140 .150 .180 .200 .250

R7

2 x 1-1/8 or 3 x 1-3/8

16°

.200 .230 .290 .330 .350 .380 .420

R8

2 x 1-1/8 or 3 x 1-3/4

16°

.185 .230 .290 .330 .350 .380 .420

R9

2 x 1-1/8 or 3 x 1-3/4

16°

.320 .350 .360 .380 .420 .480 .530 .545 .560 .605

R10

3 x 2 or 4 x 2

16°

.350 .420 .480 .545 .590 .605 .670 .690 .725